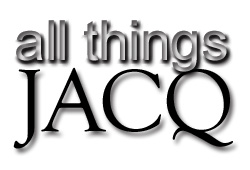 Photo Essay: New Year's Eve in NYCFirst posted in January, 2004
I am writing this on January 14, 2004 - quite belated, but I'm still traveling and thus not spending vast quantities of time in front of the computer. At present, I'm in Cambridge with Sam, and having a fantastic time. I suppose at some point I should talk about seeing bits of London, having lunch with Storme and Iain, getting sick and spending the better part of two days feeling too ill to do much of anything, meeting new people important to Sam, and my general thoughts on visiting the United Kingdom. I should, and perhaps will, do that at some point, but in the meantime, let me write about my New Year's Eve in New York City.
I really should have drafted this days ago, perhaps during my waits in airports, because it's already becoming a semi-distant memory.
View from the the Catercowleydyte residence.

I spent the New Year with Stacy, David, John, River the Giant Kitty, and Lindy the Slinky Grey Kitty.

At any rate, the three five of them share an apartment in Brooklyn, which is definitely like the rest of New York, but pleasantly more suburban than what I saw of NYC on my last trip (during which I rarely if ever strayed from the confines of Manhattan). I think what I like best about their apartment, aside from the fact that it has many cool little shops and eateries in close walking distance, is the wide sill in their study that allows you to sit in the window and watch the sunset... and they've a fairly decent view, for a cityscape. What I like about staying with them in general is that they're all great people, extremely hospitable, and Stacy gives terribly soothing and absolutely free cello recitals. They also have a great shower with decent water pressure (perhaps at some point I should post a review of showers and baths encountered on this trip, as I fancy myself to be a connesieur of such things...).

I spent my first full day in NYC walking about with Stacy and David. They shocked me a bit by taking me to Inwood Park, a section of New York City that has a real honest to goodness forest, a spring, various lovely boulders, and a view of the Palisades (which, despite being a part of New Jersey, are rather pretty). I suspect that in the insulated verdance of summer you can even escape the sound of traffic. I did take photos, but I took them with Stacy's camera, and have yet to get them from her, so perhaps that's a future post as well.
| | |
| --- | --- |
| | Oh,that's right... this post is supposed to be about New Year's Eve. |
2004 was the centennial of the ball drop in Times Square, and I decided about a year ago that I'd like to be there for the event. As it turned out however, when the night in question rolled around, I was forced to make a choice: experience New Year's Eve in Times Square with a couple of friends, or spend the evening with even more friends and probably have a much better time by not going anywhere near Times Square.Ultimately, being with fun people is what makes for a memorable evening, and I opted for staying in with more friends, making the perhaps five minute walk with no subways to Prospect Park for a fireworks display, then returning to the apartment. No crowds, no fuss, no boredom of sitting about for hours trapped in Times Square waiting for one cold anticlimactic moment. I know Stacy was a bit worried, seeing as how I'd come all the way from Alaska to watch the ball drop, but I was really happy with the decision to remain in Brooklyn.
The exceptionally cool people present for fine wine and cheesing were as follows:
John and Fahmida,but I didn't get aphoto of them. Damn.
Trent and David
Trent does card tricks.Really quite cool.
Ms. Stacy enjoys some cheese withso much vigor that she's all ablur.Be in awe.
One of my wonderful and fun and increasinglydear friends, Kirsten, absolutely made mynight by showing up.
| | |
| --- | --- |
| | Best way to sum up the evening... lots of cheese, lots of chocolate, lots of wine, lots of conversation and laughter, and, at midnight, lots of fireworks. |


[ TOP OF THIS PAGE | MORE PHOTOGRAPHY | HOME ]