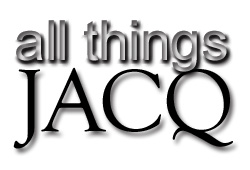 Photo Essay: Grand Canyon, Part IFirst posted in April, 2007
Sam and I landed in Phoenix, rented a car, and drove north through the Sonoran desert.
(Photo credit: Sam, who took this while we were going 75mph)

There were many saguaros. I don't believe I've ever seen saguaro cacti before.
There were other sorts of lovely cacti as well, such as this cholla... And this is my first time in the desert, so if I misidentify anything, feel free to e-mail me with a correction... The reason for the trip was training, one of four business trips I'll take this spring. We only really have the funds for Sam to join me on one of the four, and this is (unsurprisingly) the one he chose. Albright Training Center, located inside Grand Canyon National Park, is one of two national NPS training facilities. It's named for our second director, Horace M. Albright.
The reason for this trip was to attend NPS Fundamentals, a course I probably should have taken a few years ago. Fortunately, my supervisor thought it would still be a valuable and rewarding experience, and he was right. I don't intend to say much more about Fundamentals here. As a general rule I don't discuss the details of my work online. But I will say to those other NPS employees out there reading this that if you haven't taken this course, it's worth it - regardless of how long you've been with us.
I shall therefore fast forward to the weekend Sam and I spent in the Grand Canyon in between my two weeks of work.
We had a glorious little sleep in on Saturday morning, then explored the various historic structures on the south rim.
The park has, if memory serves, the largest collection of architect Mary Coulter's still extant structures. Coulter's Lookout Studio, pictured above, was built in 1914. It's an early example of a park structure that blends with its setting. From deep inside the canyon when you look up at the rim, this building is barely visible.
I fell in love with Coulter's work during my fortnight in the Canyon. For instance, Coulter designed this fireplace to reflect the natural strata of the canyon. Not only does it mimic the canyon in form, the rocks for each individual layer were taken from the layer of the canyon that they are meant to represent. Coulter worked for the Fred Harvey company, and was its chief architect - a rather important position for a woman at the turn of the twentieth century.
I found these female Harvey employees to be very interesting as well - the original 'Four Couriers,' a group of women hired by the Fred Harvey company to provide an intellectual component to their tours. The program was launched in 1926, and the women you see here spoke both Spanish and English and held degrees in history, geology, art, and archaeology. They accompanied customers on excursions that lasted up to five days and took them to places such as the Grand Canyon, Navajo and Hopi villages, Mesa Verde, Taos, Petrified Forest, and Carlsbad Caverns.
We had a wonderful lunch from a table with a view of the canyon at the historic El Tovar lodge...
...and followed it up with a guided ranger walk near Yavapai Point, where, among other things, we learned about yucca and I began a photographic obsession with its curly fibers.

[ Click here to view the next Grand Canyon photography essay. ]



[ TOP OF THIS PAGE | MORE PHOTOGRAPHY | MORE WRITING | HOME ]