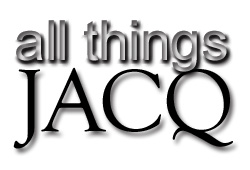 Photo Essay: Appalachian Trail, Clingmans Dome to Fontana DamFirst posted in May, 1999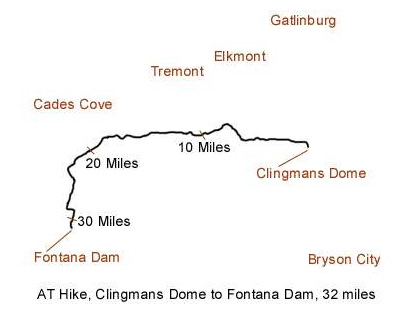 The Dome to the Dam in a Day: Can It Be Done? The short answer to the question is, of course, "Yes," but I suppose many of you would like a longer answer than that! While I could tell you the long-version of why we decided to even attempt this, I'll opt for the short version. Suffice it to say, a coworker of mine began to wonder if such a hike could be done in a day... he lured in a couple of unsuspecting victims, and then one of those victims in turn suckered me into the experiment. After considerable thought, a bit of soul-searching, and careful planning, we met at Clingmans Dome at 5:30 AM on the Saturday morning of May's full moon. Loaded down with water, food, a water filter, head lamps, and mole skin (used to prevent blisters), we departed from Clingmans Dome at 5:45AM.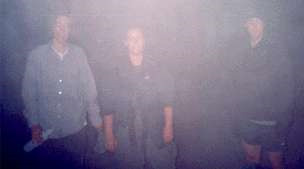 Quarter of six in the morning... the hike begins
We kept a respectable 3mph pace to begin with. The woods were beautiful, and the hiking was fantastic. Spring wildflowers were still in bloom at this elevation (over 6000 ft above sea level), and there was plenty to see. We took breaks every few miles to snack and drink, and stopped at most of the available springs to refill our water. Much to my surprise, we were not the only crazy people on the trail that day... we ran into a few other individuals who planned to do over twenty miles that day, and that made me feel a bit better. Every so often, when we ran into other folks who were willing to take our picture, we documented our journey. In the following photos, we're holding up fingers to indicate the mileage we've traveled.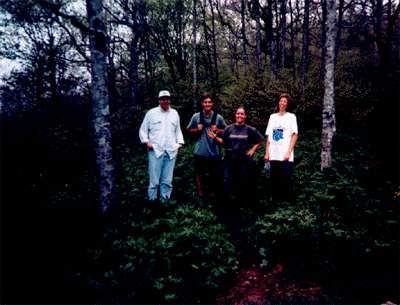 5 miles and fresh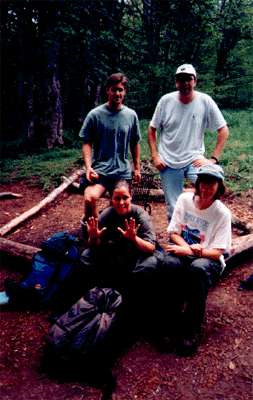 10 miles and still smilin'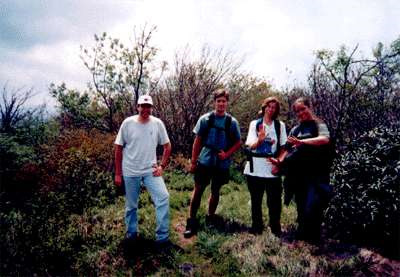 15 miles and almost half-way there!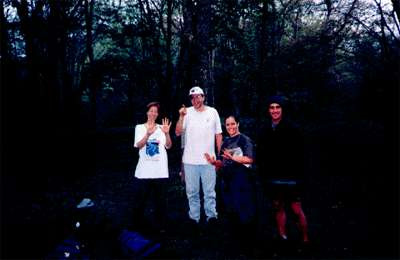 21 miles and on the down-hill slide
Our last "documentary" photo was taken at 21 miles, mostly because we didn't see too many folks after that, and it was getting dark. Unfortunately, we were unable to keep the 3 mph pace (mostly due to yours truly, an admitted slow-poke) and were forced to hike the last seven miles in the dark. Here are a few more photos that were taken before the sun went down:
Mike R., the Instigator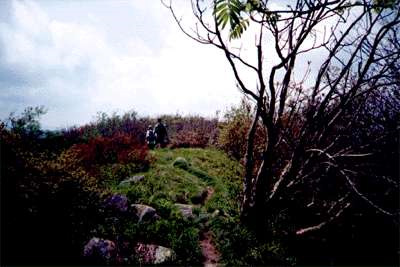 Mike M. and Dianne crossing Thunderhead Mountain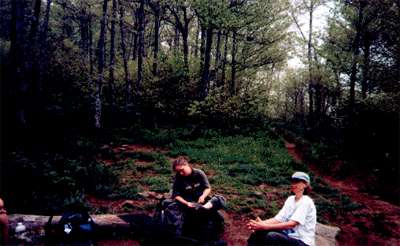 I reapply my mole skin as Dianne wonders why she agreed to this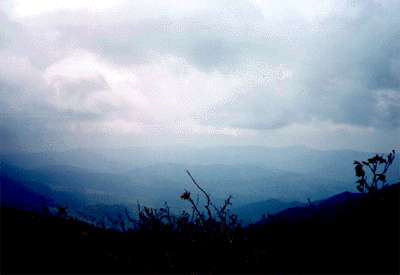 Breath-taking views were plentiful
To make a long hike short, we crawled down Shuckstack Ridge in the dark and arrived at Fontana Dam around 3AM. We'd seen a handful of deer, several grouse, numerous song birds, two bobcats (one before dark and the other after... rare events to be sure), and I had seen fox fire for the very first time. While we didn't break any speed hiking records, we did accomplish our task... though we did hobble like little old men and women for a day or so. All in all, it was a worthwhile experience, and one I look back on for years to come.
[ Click here to read about the second half of this hike ]


[ TOP OF THIS PAGE | MORE PHOTOGRAPHY | MORE WRITING | HOME ]