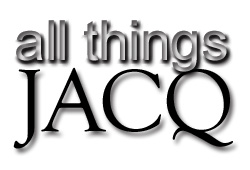 Photo Essay: Paris, Part I: ArrivalFirst posted in February, 2005
February 7, 2005, 11.09 AM
On a train in the Cambridge Station
I am leaving Cambridge this morning, bound for Paris. I've really only just left, but so far everything has been smooth; the train will depart for King's Cross (London) on time at 11:15.
I should feel some sort of wild excitement inside, shouldn't I? I've pretty much always wanted to go to France. My language skills will, I think, suffice. But I'm not nervous, not excited, not anything. I'm blank. Odd.
Part of me is vaguely worried about going alone. No guide, no real plan of any sort. I do know where I'm sleeping tonight (assuming I find the hotel) but beyond that I've no idea what I'll do aside from just, well, being in France. And that's where this silly sort of disquiet comes in. It feels a bit like an end of semester practical exam. Can she negotiate the metro? Can she find the Eiffel Tower? Once there, will she be able to communicate with the ticket vendor? But beyond the sting of embarrassment there is no mark to be given, no grade to be assigned, and I suppose that, despite these thoughts I must be fairly confident or there'd be a flutter of some sort inside me. And there's not. No anticipation. No preconceptions. No solid thought beyond, Well, let's see what happens.
The British countryside flies by at an amazing pace.
February 7, 2005, 7.40 PM
A café on Rue Philippe-Auguste
Je suis ici. A few small mishaps, but I am here. Said mishaps range from silly language mistakes that began before I even left England (the French border police, predictably enough, expect French to be spoken even if you're still on British soil) to the fact that my credit card was turned down at the hotel because Bank of America figured that after two months in England it's somehow suspicious that I might try to use the card in France (sorted it out, but not without frustration). Apropos of nothing, there are a disturbing number posters featuring Gerard Depardieu in the Gare du Nord. My room in the Hotel Camelia just off Place de la Nation is small but very reasonably priced with a private toilet and shower. Its decorations include odd blood-red lamps and matching bed spread:
It's a bit reminiscent of a vampire movie, but then, the café in which I'm presently writing has disturbingly similar light fixtures. Either all of the eleventh arrondissement is inhabited by the undead or funeral parlor interior decorating is presently the style in Paris. I shouldn't be too harsh on the room, though, as it also has a lovely balcony window that looks out over the street with a view of Place de la Nation (provided you lean out and turn your head to the left, that is).
I am at l'Avenue Café, about two blocks down Rue Philippe-Auguste from my hotel. Simple but excellent food. I've eaten the first French bread I've ever had that's actually been worth eating. The waiter is very nice but a bit of a smart ass. I wouldn't go so far as to say rude, just... a joker. They are discussing US politics at the bar. I can't get away from it, no matter where I go.
February 8, 2005, 9.00 AM
Dungeon, Hotel Camilia
Slept in a bit later than I would have liked, but no matter. I suppose that today I shall do the stereotypical Paris things - the Eiffel Tower, a boat ride on the Seine, maybe Notre Dame if time permits. At present, I am having breakfast in the basement of the hotel. There's a creepy stone (and stone-lined) stairwell to the dungeon basement, but the vampires' coffins aren't actually visible and the coffee isn't instant, so everything's fine.
The French, who are so famous for their cuisine, make no real attempt at breakfast: coffee, orange juice, and a croissant - a freshly baked croissant, perhaps the best I've ever had, but just a croissant (the waitress has forgotten to give me jam and now she is gone). Sam would have probably been much pleased, as this is his type of light breakfast fare; I wish he were here. Breakfast is done. I shall go seize the day.
[ Click here to view the next Paris photography essay. ]


[ TOP OF THIS PAGE | MORE PHOTOGRAPHY | MORE WRITING | HOME ]