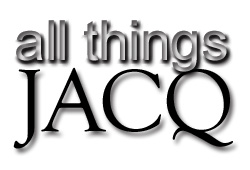 Photo Essay: Weekend Getaway in Southeast, Part II: JuneauFirst posted in October, 2006
After a night in Haines, we departed for our next port: Juneau. The photograph above is of a tiny little island that can be seen from the ferry dock in Juneau. I have no idea what it's called, or if it even has a name, but I have always loved how it seems to fit like a puzzle piece into the silhouette of the island next to it. I have taken countless photographs of these two islands in all sorts of weather, but this trip I restrained myself. When I think of Juneau, though, I think of this island, and I wanted to lead off with this photograph, even though it was actually taken last September, not mid-October.
The ferry arrived in Juneau around four in the afternoon, which left us only two or so hours of daylight to get from the ferry terminal to our hotel, check in, drop our things, rent a vehicle, and drive to our planned destination for the afternoon: Mendenhall Glacier. We weren't able to arrive before the visitor center closed for the afternoon, but we did manage to arrive just in time for the last of the sunlight to cast its rose-shaded alpenglow on the peaks. (NB: Because of our limited daylight, I've included a couple of other images that I meant to share from September, but never did.) Anyway... I heard all these tiny children screaming, "PORCUPINE!" For some reason, I wasn't in a trusting mood, and thought the children were pulling my leg, so I moved on down the trail toward the glacier to get what photos I could before sunset.
I had hoped we would have enough time for a bit of light hiking, perhaps over to Nugget Falls, only a half-mile distant, but there just wasn't enough time left in the day for that sort of diversion.
This was the closest we were able to bring Sam's parents to a glacier during their visit, and I think they enjoyed the experience.
Here, Mash shows some childlike glee over photographing ice bergs.
And here's my best ice berg shot of the evening. After getting a few more shots of the glacier and the lake, I met back up with Mash, who'd been lagging behind... because he'd been taking photographs of a porcupine! The children, it seemed, had not been crying wolf (or porcupine, as the case may be).
So we scrambled back to the last place it had been seen. Fortunately, it hadn't wandered far... but in the failing light I wasn't able to get any very good photographs. He was still very fun to watch, of course. We wandered on, toward a nearby creek that presently has a run of salmon, in the hope of seeing a bear. Sam and I had seen a lovely, rather fat black bear during our last visit, and we were trying to get in as many wildlife experiences as possible for Sam's parents. Amazingly enough, while viewing the stream from the safety of a wooden overlook, a black bear wandered along the stream below, perhaps thirty feet away. A magical experience - but a black bear in the woods, at dark, with his steady movements... I didn't even try to photograph him. Better just to capture the moment in our memories...
Upon returning to Skagway and going through my photographs, I now realize that we might well have seen the exact same bear during both trips. They look remarkably similar, and both were wearing a radio collar. So why not post an earlier photo?
We rounded out the evening with a fantastic meal (as ever) down at The Hanger on the waterfront. Always worth the drive. Had a great, albeit short, time in Juneau.


[ TOP OF THIS PAGE | MORE PHOTOGRAPHY | MORE WRITING | HOME ]