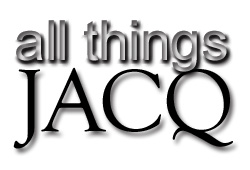 Photo Essay: Dawson City, YukonFirst posted in August, 2008
As you may have read in my previous photography essay, I just finished 'working' ten days in a row, and therefore deserved a rather wonderfully long weekend. I decided that it was high time I see Dawson City, the destination of the stampeders. I'm not very good at building boats, though, so I decided to drive. And I'm not a complete glutton for punishment, so I broke up the drive by camping at Takhini Hot Springs and having a nice long soak.
Unfortunately, the route to Dawson is long, on less than pristine roads, and I consequently decided to leave my tinier, more fuel efficient sedan at home... I instead drove the red truck seen on the right in the above photograph, which shows it parked on Front Street in Dawson. I consoled myself with the knowledge that I don't make road trips nearly so often as I did when I was in my twenties, and that this is only the first time I've traveled on a strictly personal trip (not combined with traveling for work) in two years. I did what I could to stretch the fuel efficiency by filling my tires to their ideal pressure and keeping to the speed limit (or below) the entire way. That made the best of the gasoline, the most expensive of which on this trip was purchased at the junction of the Klondike and Dempster Highways for $1.79 per liter, or roughly $6.78 per gallon... about two dollars per gallon more expensive than what I presently pay for gas in Skagway... but cheaper than flying.
Dawson lies near the confluence of the Klondike and Yukon Rivers. Here, you can see the clear waters of the Klondike flowing alongside the siltier, glacially-fed waters of the Yukon. I've heard people compare Skagway to Disneyland, and in visiting Dawson I sort of began to comprehend why. Almost everything in Skagway is shiny and new-feeling in comparison to Dawson. The paved streets of Skagway on an average summer day are filled with thousands of tourists eager to spend their money in dozens of souvenir shops, jewelry stores, and art galleries. Dawson is far more quiet in comparison--though admittedly my visit falls near the end of the season. Though there are striking similarities between the towns, such as the intense interest in gardening and landscaping...
... and the fact that Parks Canada and several private landowners have done some fantastic restoration work...
...many buildings still speak of a century of bitterly cold Yukon winters. Overall, the place reminded me less of Skagway and more of McCarthy, Alaska - another old mining town where I spent much of the summer in 2000, where I worked as an archaeologist and received the crash course in mining and industrial archaeology that I hadn't received during my master's work, which had centered more on rural burial practices and agricultural landscapes.
And what's left of the industrial archaeologist in me had a good time. I learned a great deal about the differences in placer mining as it was done in the Yukon compared to what I knew of mining for gold and copper in Alaska.
The photographer in me, as always, loved photographing the textures and shapes of machinery inside one of the massive gold dredges which once mined the area. As night fell, I needed to find a place to sleep. I thought of staying the night in the government campground, but it would have required putting my vehicle on a ferry across the river and relocating my tent in the darkness, alone, in bear country, after having imbibed a few adult beverages. As I was mulling over my options and enjoying dinner at The Drunken Goat (a very lovely little Greek restaurant), the waitress and I started conversing. Turns out being a Skagwegian has its perks... one small town girl to another, the waitress informed me that she was house-sitting for someone else and her tent trailer was free and that I was welcome to it for the night. The other waitress, her tentmate, drew me a map, and after dinner I struck out with map in hand to find it. I thought perhaps I found it, but wasn't entirely sure, and didn't see any locals around to ask (I'd been told I could just simply ask any local where I could find "One Eyed Jack's place"). The circuitous wandering of town did allow me to happen upon a couple of very interesting cemeteries...
The tent trailer was indeed a very thoughtful and sweet offer, and I told the girls as much when I ran into them later and bought a round of espresso martinis (vodka, dark crème de cacao, and espresso--very yummy) while we enjoyed live bluegrass music at Bombay Peggy's, but I ultimately decided to stay in a hotel. The first place I inquired about a room quoted me a price of $150. The second place, a renovated brothel, offered me a crib room with community toilet and shower for $50. The Bunkhouse turned out to be a very clean, simple, and affordable place to stay and I recommend it to others. Of course, I took a few tours to learn more about the place and a bit more of its history. Parks Canada interpreters in period dress will show you many of the buildings and answer all of your questions.
Above is Justine, a Parks Canada interpreter who was wonderful and accommodating and from whom I learned so much during my stay in Dawson. I hope she'll come to visit me in Skagway, as she wants to hike the Chilkoot Trail. I commented to her and one of her coworkers that I, having now stood in Pioneer Square and visited the Klondike Gold Rush Seattle Unit, having journeyed from Washington state up through the Inside Passage to Skagway by ship, having hiked the Chilkoot Trail, and having now visited Dawson... well, I feel like I've had the full Klondike Gold Rush Experience. Justine and Faye pointed out that there was one other bit I haven't done that they have... they've canoed some (or in Faye's case all) of the Yukon from Whitehorse to Dawson City. They assured me its easier these days, what with Miles Canyon having been dammed for electricity and with Five Fingers Rapids now being a very known quantity, and that I should do it. I guess that's something to consider for a future trip. All told, I spent one evening, one night, one morning, and one day in Dawson, during which I walked the town, perused the stores, sampled the bars and restaurants, and took in a midnight show at Diamond Tooth Gertie's Gambling Hall. I easily could have spent far more time, but the long weekend wasn't long enough, and I had more plans. Before I detail the rest of my trip, here are just a few more photographs of interest from Dawson:
Fake brick siding on Ruby's Place, built in 1902--one year after the 'banning' of prostitution in Dawson. In theory, it was called a boarding house. In practice, it was a brothel that operated until the 1960s. Dawson was once called "The Paris of the North" and its history of prostitution, gambling, saloons and dance halls, as well as the RCMP who did their best to maintain order (but not necessarily enforce the law) in those early days is more than interesting.
Reproduction light bulbs in restored buildings replicate the poor quality of electric illumination experienced in Dawson, the second Canadian city to have electricity (I believe Ottawa was the first, if memory serves).
There's a fascinating history of death and disease in Dawson, a boom town that went from 0 to 30,000+ practically overnight. Sanitation and health services had difficulty catching up, and it's difficult to bury people when it's forty below...
Jack London once had a cabin, well, sort of near here... 120 km from Dawson. So far as distances go in this part of the world, that's sort of nearby. Sort of. Anyway, London came to the Yukon at the age of twenty-one, hoping, like everyone else, to strike it rich. He fell in with the majority who were unable to stake a claim, but ultimately earned fame through his stories of the Klondike. Trappers found a cabin on Henderson Creek in the thirties with London's signature on the back wall. The cabin was eventually dismantled and removed. Two replica cabins were made from the original, one of which stands in Dawson.
The poet Robert Service did make his home here in Dawson, and you can visit his cabin and hear Parks Canada interpreters give a reading of his poetry and tell you all about his life. Service is famous across the North, and I've endured many a poetry reading (though it may be sacrilege to say so, I'm not a fan).
I am, however, a fan of Pierre Berton, who spent his childhood in Dawson and grew up to be a premier historian of the Klondike gold rush. Each night that I'm on the Chilkoot Trail I retell the stories I've read in Berton's books to hikers. By their facial expressions and praise, I think that they think I'm a great story teller, but really it's all Berton's fault. I have always loved his writing style, especially the way he brings history alive. Today, his home serves as a private retreat for Canadian writers in residence. The final leg of my trip, Tombstone Territorial Park, is detailed in the next photography essay.


[ TOP OF THIS PAGE | MORE PHOTOGRAPHY | MORE WRITING | HOME ]